Those of you who know Grimbil know that he loves his facial hair. He regularly participates in various moustache and beard contests. His latest was a pro-longed Movember, in which he grew a very respectable handlebar tash.
So, when searching for a way to add some personality to our foyer, moustaches seemed an obvious theme.  We started with what we are calling the Tash-mat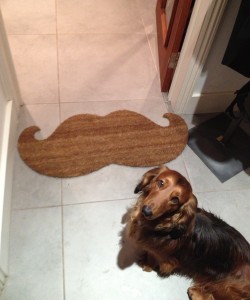 Then, in my quest for the perfect curtains for to hide our messy shelves, I found this geometric-moustache- trellis pattern.
The drycleaners stitched it up into curtains
And voila, our tash-tacular foyer!